1. Tower of London
Located on the north bank of the Thames next to Tower Bridge is the Tower of London, a UNESCO world heritage site.
Constructed in phases after 1066, the Tower has fulfilled important state functions ever since:
it was a Royal Palace, from where new monarchs began their coronation procession to Westminster Abbey;
it became a prison in which the principal enemies of the state were incarcerated and often executed;
it housed the state mint, armoury and menagerie; and
it continues to house the Crown Jewels.
The White Tower
The centrepiece is the White Tower, built in 1078 by William the Conqueror. Overseen by Yeoman Warders (or Beefeaters), the White Tower formerly imprisoned Elizabeth I (before she was queen), the Princes in the Tower, Thomas More, Anne Boleyn and Sir Walter Raleigh.
Anne Boleyn and over 100 other 'traitors' were executed on the nearby Tower Green.
The Crown Jewels
Found in the nearby Jewel House are the Crown Jewels, the regalia and vestments worn by the sovereign at the coronation and state functions.
They include the Imperial State Crown. Re-made in 1937 for George VI, it is adorned with 2,868 diamonds (including the 317-carat Lesser Star of Africa or Cullinan II diamond), 273 pearls, 17 sapphires, 11 emeralds and 5 rubies (including the Black Prince's ruby).
Other highlights are:
the 12th century gold Anointing Spoon and Ampulla (a gold flask holding oil used for the sovereign's anointing),
the Imperial Crown of India (used by George V as Emperor of India in 1911),
the Sovereign's Orb,
the Crown of the Queen Mother (decorated with the 105-carat Koh-i-Nur or Mountain of Light diamond) and
the Sceptre with the Cross (incorporating the 530-carat Great Star of Africa, or Cullinan I, the world's largest cut diamond).
More attractions
Visitors should also look out for the Tower of London's famous ravens, its fortifications and moats, Traitor's Gate (through which prisoners were brought into the Tower), and its collection of armour (including armour belonging to Henry VIII and Charles I).
One of London's best family attractions.
Where? The Tower of London, Central London EC3N 4AB. Tubes: Tower Hill and Tower Gateway.
When? Tues to Sat: 9 am to 5.30 pm (Mar to Oct), 9am to 4.30 pm (Nov to Feb). Sun and Mon: 10 am to 5.30 pm (Mar to Oct), 10 am to 4.30 pm (Nov to Feb). Not 24-26 Dec or 1 Jan.
£$€¥ Adults: £29.90, Concessions: £24, Children (5-15): £14.90. Audioguides from £4.
2. Buckingham Palace
The transformation of Buckingham House into Buckingham Palace started in 1825 during the reign of George IV, and was overseen by architect John Nash (1752-1835).
Building finished in around 1840, at the start of Queen Victoria's reign. Buckingham Palace, in the heart of Central London, has thereafter been the home and place of work of the monarch.
Stats
The Palace is 108 metres wide, 120 metres deep and 24 metres tall; it has 755 rooms including 52 official royal bedrooms and guest rooms, 188 staff bedrooms, 92 offices and 78 bathrooms; it houses over 20,000 works of art and is visited by hundreds of thousands each year (including heads of state, diplomats and the recipients of honours); and it is made up of four wings surrounding a central quadrangle.
The East Wing
Buckingham Palace's East Wing, refaced with white Portland stone in 1913 under the supervision of architect Sir Aston Webb, is the most recent addition.
It faces the Queen Victoria Memorial and The Mall, flies the Royal Standard when the Queen is in residence, and contains the royal balcony from which crowds are acknowledged on official occasions such as Royal weddings and Jubilee celebrations.
The West Wing
The West Wing houses 19 elaborately decorated State Rooms, furnished with items from the Royal Collection such as Canova sculptures and Sevres porcelain.
The largest State Room, the 50-metre long Picture Gallery, is used for entertaining, and contains works by the likes of van Dyck, Titian, Vermeer, Rubens and Parmigianino.
Other famous state rooms include the Ballroom (which hosts state banquets) and the Music Room (where Prince William was christened).
The Gardens
Buckingham Palace Gardens covers 40 acres and includes a lake complete with a flock of flamingos, a mulberry tree dating back to the reign of James I (1603-1625), a summerhouse, tennis courts and a helipad. It hosts the Queen's annual garden parties, attended by over 30,000 each year.
Notable features are the 163-metre long Herbaceous border and Plane trees planted by Queen Victoria and Prince Albert.
Where? Buckingham Palace, Central London SW1A 1AA. Tubes: Victoria, Green Park and Hyde Park Corner.
When? Since 1993, Buckingham Palace has opened its state rooms to the public for two months each summer (22 July to 2 October 2022). 9.30am to 7.30pm July-Aug, 9.30am to 6.30pm Sep-Oct.
Visitors can watch the Changing of the Guard all year round. This colourful ceremony, in which soldiers who have been on duty at St James' Palace and Buckingham Palace (the Old Guard) are relieved by the New Guard, takes place at 11am every day during summer and on alternate days during the rest of the year.
£$€¥ Adults: £30 (for state rooms); Young person 18-24: £19.50; Under 17/Disabled: £16.50; Under 5: free; Families can save up to £25 when booking directly.
3. The British Museum
The British Museum, opened to the public in 1759 and holds over 7 million objects.
They come from all corners of the world, and illustrate the evolution of human culture.
The museum's treasures are arranged into different departments, with the Department of Ancient Egypt and Sudan holding the most comprehensive collection of Egyptian antiquities outside Cairo's Egyptian Museum, and the Department of Greek and Roman Antiquities alone holding over 100,000 objects.
Highlights
Highlights of the museum's collection include:
the Rosetta Stone, dating from 196 BC, which records a decree issued during the reign of the Egyptian King Ptolemy V. The stone is famous because the decree is recorded in three languages - Greek, Demotic and Egyptian hieroglyphics - and was key in deciphering hieroglyphics.
a colossal bust of Ramesses II,
a Mummy of Cleopatra from Thebes,
the controversial Elgin Marbles (aka the Parthenon sculptures), removed from the Parthenon of Athens by the 7th Earl of Elgin between 1801 and 1812 and shipped to England.
the Cyrus cylinder,
the Portland Vase,
an Ancestral figure from Easter Island, and
the Mausoleum of Halikarnassos, one of the seven wonders of the ancient world.
The Courtyard
The impressive glass covered courtyard (pictured) and circular library alone make a visit worthwhile.
Where? British Museum, Great Russell Street, Central London, WC1B 3DG. Tubes: Holborn, Tottenham Court Road and Russell Square.
When? 10 am to 5.00 pm, seven days a week (not 24-26 Dec); late openings on Fri (till 8.30 pm)
£$€¥ Free
4. The National Gallery
The National Gallery, to the north of Trafalgar Square in the heart of central London, displays more than 2,300 paintings dating from the late medieval period to the early twentieth century.
It draws around 5 million visitors each year, making it the world's fifth most visited attraction.
The National Gallery's works are arranged into four collections.
The first, 13th to 15th Century Paintings, is dominated by religious pictures made for altars or private devotion. Highlights include Uccello's The Battle of San Romano, van Eyck's The Arnolfini Portrait, Piero della Francesca's The Baptism of Christ and Botticelli's Venus and Mars.
The second collection, 16th Century Paintings, contains religious works together with portraiture and pictures of ancient history and mythology. The most famous works are Holbein's The Ambassadors, Michalangelo's The Entombment, Titian's Bacchus and Ariadne and Veronese's The Family of Darius before Alexander.
The third collection is devoted to 17th Century Paintings, and contains religious works together with portraiture, still lifes and landscapes. Of particular note are Caravaggio's The Supper at Emmaus, Vermeer's A Young Woman standing at a Virginal, Velazquez's The Rokeby Venus and Rembrant's Self-Portrait. The final collection, dominated by landscapes and still life canvasses, is 18th to early 20th Century Paintings.
Visitors should be sure to take in Turner's The Fighting Temeraire and Constable's The Hay Wain (both pictured), Monet's Gare Saint Lazare, Bathers at La Grenouillere and various Water Lilies and van Gogh's Sunflowers and Wheat Field with Cypresses (pictured).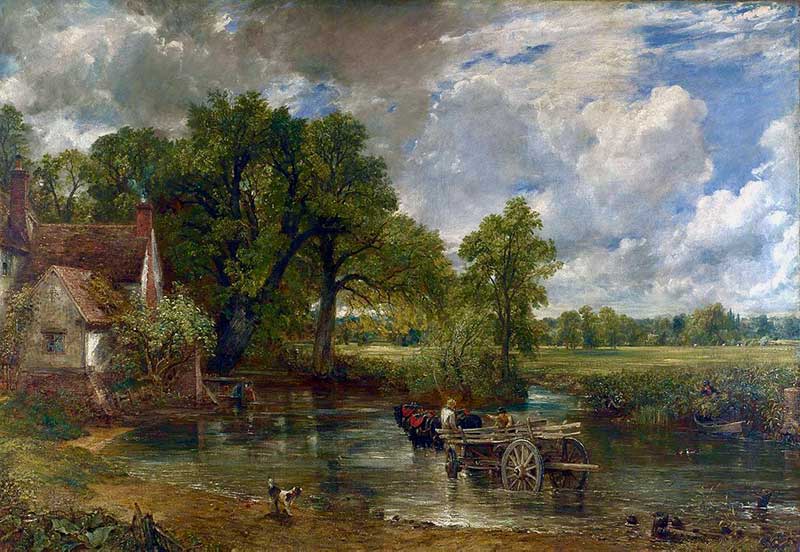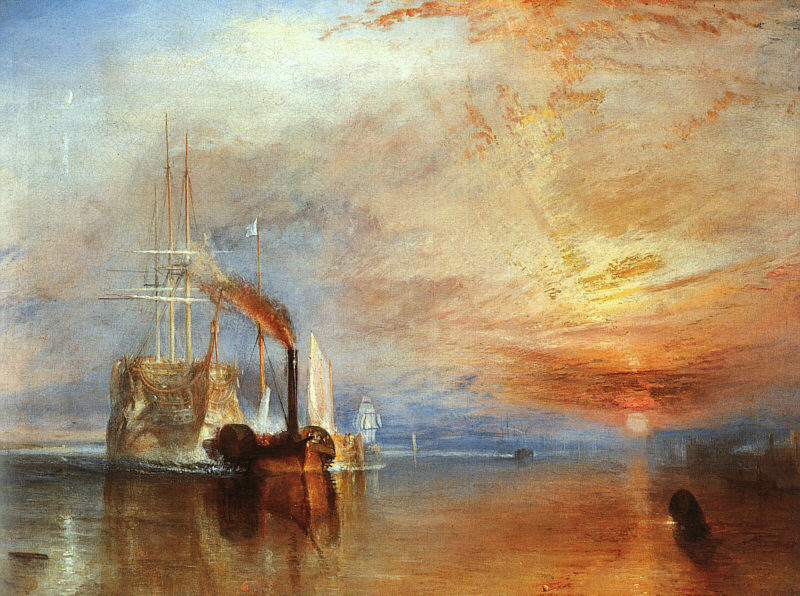 One of the National Gallery's most recent high-profile acquisition is Titian's Diana and Callisto. Amenities include an espresso bar, Muriel's Kitchen cafe and the recently opened restaurant, Ochre.
Where? The National Gallery, Trafalgar Square, Central London WC2N 5DN. Tubes: Piccadilly, Leicester Square and Charing Cross.
When? Daily 10 am–6 pm (Fridays 10 am–9 pm). Closed 24-26 Dec and 1 Jan.
£$€¥ Free
5. The Courtauld Gallery
The Courtauld Gallery contains the finest small collection of art found anywhere in the world.
The collection ranges from the early Renaissance period to the second half of the 20th century, and is displayed in a series of intimate and ornately decorated galleries in the 18th century Somerset House.
The earlier works generally have a devotional element, and include several Rubens canvasses, Botticelli's The Trinity with Saints, Cranach's Adam and Eve and a Bernardo Daddi altarpiece.
Impressionist collection
The impressionist collection is particularly strong and includes
Renoir's La Loge (painted for the first impressionist group exhibition held in 1874),
Degas' Two Dancers on a Stage (Degas, a real misanthrope, is particularly famous for his works of the ballet and jockeys),
10 works by Cezanne, most notably The Card Players (one of only five versions of this iconic work),
Manet's The Great Bar at the Folies-Bergère (pictured), and
van Gogh's Self-Portrait with Bandaged Ear (painted shortly after van Gogh's release from hospital having mutilated his ear following a quarrel with Gaugin).
Modern works
More modern works by the likes of Matisse, Kokoschka and Kandinsky are also on display on the top floor. The Gallery hosts temporary exhibitions through the year, often arranged around one of the Gallery's masterpieces, such as its recent Edvard Munch. Masterpieces from Bergen exhibition.
It is also home to over 7,000 drawings, prints, sculptures and furniture and has a stylish all day restaurant and bar located on the ground floor. This attraction is a must for art lovers and those wishing to avoid the crowds.
Where? The Courtauld Gallery, Somerset House, Strand, Central London WC2R 0RN. Tubes: Temple, Holborn and Waterloo.
When? Daily 10am to 6pm (occasional late opening).
£$€¥ Adults: £9 weekday, £11 weekend; 18s and under free.
6. The National Portrait Gallery
Founded in 1856, the National Portrait Gallery is home to the largest collection of portraits in the world, with works dating from the late fifteenth century to the present day.
Over 1000 paintings are on display at any one time, arranged into 42 galleries over three floors. They are presented together with informative commentary as to both the work in question and the period in which it was painted.
The oldest works, spanning from the early Tudors to the early 19th century, are found on the second floor. Highlights include the Ditchley portrait of Queen Elizabeth I, depicting the queen standing on a map of England, a 1631 painting of King Charles I by Daniel Mytens, a portrait of William Shakespeare (known as the Chandos portrait, the only surviving painting of the bard dating from his lifetime), and a sketch of Jane Austen drawn by her sister Cassandra.
The first floor exhibits works from the Victorian age to the late 20th century. Don't miss the Sir George Hayter portrait of Queen Victoria, the Sickert portrait of Sir Winston Churchill and Sam Walsh's 1964 portrait of Sir Paul McCartney. Contemporary portraits are housed on the ground floor, together with temporary exhibitions.
The Gallery's third floor Portrait Restaurant offers fine dining and great views over Trafalgar Square and Parliament; its Cafe serves a selection of homemade snacks in an informal setting. A must-see attraction for those interested in history or art.
Where? National Portrait Gallery, St Martin's Place, Central London WC2H 0HE. Tube: Leicester Square.
When? The National Portrait Gallery is closed until Spring 2023 for an extensive refurbishment (Daily 10am to 6pm. Late opening until 9pm on Friday)
£$€¥ Free
7. The Churchill War Rooms
The Churchill War Rooms comprise the Cabinet War Rooms, an underground bunker in which the cabinet met during the Second World War, and the Winston Churchill Museum.
The Cabinet War Rooms contain about 30 basement offices converted for war use immediately prior to the outbreak of hostilities in 1939.
They include the war cabinet room, in which Churchill's cabinet met 115 times, the transatlantic telephone room, in which Churchill sat to hold secret discussions with Roosevelt, the map room, which collected and displayed information delivered via a rack of colour-coded telephones, and Churchill's office and bedroom, from which he made four wartime speeches.
The War Rooms have been carefully preserved, with visitors able to see items ranging from Churchill's cabinet chair (still bearing the scratch marks made by Churchill during tense discussions) to ration packs containing sugar cubes.
The Churchill Museum is the only one of its kind, telling the remarkable story of Churchill's life through the use of multimedia. The centrepiece is a 15 metre-long 'lifeline' showing what Churchill did in each one of his 90 years between 1874 and 1965.
This allows visitors to open documents, view photos, watch film clips and listen to extracts from some of Churchill's most famous speeches (such as when he told the nervous nation that "We shall fight then on the beaches ... we will never surrender").
Snacks are served in The Cafe. A great attraction for those interested in history.
Where? Churchill War Rooms, Clive Steps, King Charles Street, Whitehall, Central London SW1A 2AQ. Tube: Westminster.
When? 9.30am to 6pm, last admission 5pm. From 27 Dec to 3 Jan: 9.30am to 7pm (except 31 Dec open till 6pm), last admission 5.45pm. Closed 24, 25 & 26 December.
£$€¥ Adults: £26.35; Concessions: £23.60; Children (5-15, under 5s free): £13.15.
8. Tate Britain
The Tate Britain tells the story of British art from the 1500s to the present day.
Housed in the Sidney Smith and John Russell Pope building on Millbank close to Westminster, the Tate Britain underwent a £45 million renovation in 2013.
Attracting over 5 million visitors a year, most of the galleries are arranged chronologically allowing visitors to walk through 500 years of British art.
The Tate also offers a number of galleries devoted to specific artists, in particular JMW Turner (with over 50 works displayed in the Clore Gallery on the main floor), John Constable and Henry Moore, a number of temporary exhibitions, plus the Djangoly Café when it's time for refreshments.
Early works include The Cholmondeley Ladies, dating from 1600-10, and 18th century works by Sir Joshua Reynolds. 19th century works include Constable's Sketch for Hadleigh Castle, John Everett Millais' Ophelia and John Singer Sargent's Lily, Lily, Rose.
Early 20th century works include Gwyn John's Nude Girl and Eric Gill's Ecstasy, with works from later in the century by Mona Hatoum, David Hockney, Francis Bacon, Richard Hamilton and Sonia Boyce.
Where? Tate Britain, Millbank, Central London SW1P 4RG. Tube: Westminster.
When? 10am to 6pm, daily. Closed 24-26 Dec.
£$€¥ Free
9. The Tower Bridge Exhibition
In the late 19th century, development of London's east end led to the need for a new bridge downstream of London Bridge.
A competition was held to design a bridge that would be able to accommodate tall-masted ships. T
The winning design—by Sir Horace Jones and Sir John Wolfe Barry—incorporated two 65-metre tall towers built on piers, each housing a pivoting bascule (which could be raised until nearly vertical to accommodate larger vessels). The towers are connected by two horizontal iron walkways and supported at each end by a more conventional suspension bridge structure.
Tower Bridge, named after its proximity to the Tower of London, was constructed between 1886 and 1894. It incorporates 70,000 tonnes of concrete and 11,000 tonnes of steel into its 244-metre length.
When opened by a steam powered hydraulic system, the bascules allow ships of up to 42 metres to pass. Today, the bascules are raised around 1000 times each year.
The Tower Bridge Exhibition allows visitors to ascend the north tower and walk along the 42-metre high walkways connecting the towers. The views are excellent, especially of the nearby HMS Belfast, Tower of London, Gherkin and London Shard.
Visitors can watch two films about the bridge and its history, and take in the temporary exhibitions, before descending to the Victorian engine rooms to see the still operational original hydraulics systems and steam engines.
Where? Tower Bridge, Central London. Tube: London Bridge and Tower Hill.
When? 9:30am to 5pm (last admission)
£$€¥ Adults: £11.40; Adult Concessions: £8.60; Child (aged 5-15): £5.70; Child Concession: £4.30; Family tickets from £19.38
10. The Wallace Collection
Bequeathed to the nation in 1897, the Wallace Collection houses the best private collection of art ever assembled.
Displayed over 25 galleries in the architecturally stunning Hertford House, a grand townhouse on central London's Manchester Square, the Collection was assembled by four generations of the Hertford family.
The most enthusiastic collectors were the 4th Marquess of Hertford (1800-1870) and his illegitimate son Sir Richard Wallace (1818-1890).
The Collection's treasures are diverse in nature, including Renaissance masterpieces, important 17th to 19th century paintings, 18th century French porcelain and furniture, and arms and armour.
Furniture and armoury highlights include a Jacques Caffieri Chandelier given by Louis XV to his eldest daughter Louise-Elisabeth, numerous pieces of 18th century Sevres porcelain, a cabinet on stand elaborately decorated with marquetry by Andre-Charles Boulle, a dagger dating from about 1600 given to King Henry IV of France by the City of Paris, armour made in the early sixteenth century for German nobleman Ottheinrich, a pair of flint-lock pistols from 1660 which belonged to King Louis XIV of France, and Tsar Nicholas I's flint-lock rifle.
The Wallace Collection's paintings are equally impressive. The Dutch school is well represented by works such as Jan Steen's Celebrating the Birth (1664), Pieter de Hooch's A Boy Bringing Bread (1660-3) and Rembrandt's Self-Portrait and Titus.
Venetian views by Canaletto and Guardi are displayed together with 19th century works by Bonington, Delaroche and Delacroix in the West Galleries.
And the Great Gallery has a particularly strong 17th century collection: works such as Nicolas Poussin's A Dance to the Music of Time, Titian's Perseus and Andromeda, Rubens' The Rainbow Landscape, Frans Hals' Laughing Cavalier (pictured) and van Dyck's Philippe Le Roy are displayed alongside more recent masterpieces such as Gainsborough's Mrs Robinson.
Visitors will enjoy a relatively crowd-free day at this splendid attraction. The French-style brasserie and drop-in café found in the stunning light filled courtyard are also highly recommended.
Where? The Wallace Collection, Manchester Square, Central London. Tube: Bond Street.
When? 10 am to 5 pm, 7 days a week.
£$€¥ Free
11. The London Eye
The London Eye, inaugurated on Millennium eve, is the tallest Ferris wheel in Europe.
Found on the south bank of the Thames in the heart of Central London, the Eye stands 135 metres high, with a diameter of 120 metres, and cost £70 million to construct.
The Eye is a cantilevered observation wheel, supported on one side by an A-frame and tensioned steel cables. The wheel's 32 capsules are air-conditioned and each hold up to 25 passengers.
Rotating at a speed of just under 1 kilometre an hour, a complete revolution takes about half an hour. Around 3 million take a spin on the Eye each year, and in 2020 the London Eye celebrated its 20th anniversary.
You can see 55 of London's landmarks from the top, including Big Ben, Westminster Abbey, St Paul's Cathedral, the Tower of London, the Gherkin, the Savoy and Buckingham Palace.
Where? London Eye, Riverside Building, County Hall, Westminster Bridge Road, Central London SE1 7PB. Tubes: Waterloo, Embankment, Westminster.
When? 11am to 6pm. More information on the official website.
£$€¥ £29.50 per adult and; £26 per child, or £26 per person on a standard family ticket. Save up to 20% booking in advance online.
12. St Paul's Cathedral
St Paul's Cathedralwas designed by Sir Christopher Wren and built between 1675 and 1710 after its predecessor was destroyed by the great fire of London.
Since then, it has hosted some of the most important religious services in the country's history including the funerals of Nelson, the Duke of Wellington and Winston Churchill, and the marriage of Prince Charles to Lady Diana Spencer.
Of interest to visitors will be St Paul's famous 108 metre-high dome, the two imposing towers at its west end (one housing a 16.5 tonne bell), its crypt and the 530 steps leading to its whispering and then golden galleries.
Where? St Paul's Cathedral, St Paul's Churchyard, Central London, EC4M 8AD. Tubes: St Paul's and Mansion House.
When? Open to sightseers between 8.30 am and 4 pm Mon to Sat, with the exception of Wednesday when admission is from 10am. But check the website before visit.
£$€¥ Adults: £18, Seniors & Students: £16.00, Children: £7.70. These prices are for tickets bought online and are less expensive than walk up prices,
13. Parliament and Westminster Abbey
The Houses of Parliament and nearby Westminster Abbey are London's second world heritage site.
The public can visit Parliament all year round, with visitors able to access the majestic Westminster Hall, built in 1097 (the place where Charles I was sentenced to death in 1649), the public galleries (to view debates), and the busy central lobby situated between the two Chambers (with huge chandelier and statues of monarchs and prime ministers).
Westminster Abbey, a stone's throw from Parliament, should be next on your list. The Abbey has hosted the nation's most important religious events since 960 AD, including the coronations of William the Conqueror in 1066 and Queen Elizabeth II in 1953.
Don't miss Poets' Corner, where Chaucer, Dickens, Shakespeare, Tennyson and Wordsworth are either buried or memorialised.
Where? Houses of Parliament and Westminster Abbey, Westminster, Central London. Tube: Westminster.
When? Parliament: check the website before visiting. Westminster Abbey: Mon to Sat only (unless you go to worship), usually from 9.30 am to 3.30 pm.
£$€¥ The Houses of Parliament are free to enter. Westminster Abbey: Adults: £25, Concessions: £22, Children: £11. A multimedia guide is included in your admission.
14. The Royal Parks
Central London's two principal Royal Parks—St James' Park and Hyde Park —occupy around 800 acres, making London one of the world's greenest capitals.
They are complemented by North London's Regent's Park and East London's Victoria Park.
Hyde Park, when taken together with the adjacent Kensington Gardens, is the largest all of London's parks. Highlights include visiting the Park's:
memorials (including the recently added Diana Fountain, designed to express Diana's spirit, represented by fast-flowing water, and made from 545 pieces of Cornish granite),
its formal gardens (in particular the rose gardens), the Serpentine lake (where you can take a dip in summer or hire a pedalo),
Speaker's corner (where you might catch some spirited political or religious debate), and
the Serpentine Art gallery.
St James' Park is much smaller, enclosed on three sides by Horseguard's Parade, The Mall and Buckingham Palace.
Visitors should try to catch the feeding of the park's pelicans, each day between 2.30-3pm, and the changing of the guard outside Buckingham Palace at 11.30 every day between May and July and on alternate days for the rest of the year.
Where? For Hyde Park, the closest tube stations are Marble Arch and Hyde Park Corner; for St James' Park, use Westminster or St James Park.
When? Hyde Park and St James' are open from 5am to midnight, 365 days a year.
£$€¥ Free
15. A walking tour of legal London
Those looking for an alternative activity should consider a walking tour of legal London.
Start at the Old Bailey, also known as the Central Criminal Court, which hears the country's most serious criminal cases.
The principle of open justice means that those who are prepared to go through strict security can watch part of a criminal trial—perhaps a murder or a robbery—complete with bewigged barristers and judge, 12-man jury and old-fashioned, book-lined courtroom.
Then head west down Fleet Street and take a left down Bouverie Street until you see the main gates of the Inner Temple. One of the four Inns of Court, the societies which are still responsible for conferring rights of audience on barristers, Inner Temple is made up of barristers' chambers, Inner Temple Hall (where barristers and Judges eat) and, most famously, Temple Church.
This round church, built in the 12th century as the headquarters of the Knights Templar, is famous for its effigy tombs and for featuring in Dan Brown's Da Vinci Code.
Once you are finished, head north to Fleet Street and continue west until you reach the imposing Royal Courts of Justice. This gothic building, which houses the High Court of Justice and the Court of Appeal, was built in the 1870s and opened by Queen Victoria in 1882. Tourists are again able to watch most hearings.
Leave the Royal Courts through the Cary Street exit and head north into Lincoln's Inn. Visitors are free to access the Inn during the week and should take in its excellent gardens and its other historic buildings.
Chief amongst them is the Inn's Chapel, built between 1620 and 1623 after the foundation stone was laid by John Dunne. The Chapel, aspects of which were designed by Christopher Wren, has two isles and fantastic stained glass.
When? The Inns of Court are open between 8am and 7pm Monday to Friday. Courts sit between 10.30am and 4.30pm Monday to Friday.