1. The Santander Hire Scheme
Introduced in 2010, the Santander Cycle Hire Scheme has been responsible for between 9 and 11 million cycle hires since 2014.
The docking stations
The scheme's 781 docking stations each comprise a touch-screen docking terminal at which you can hire cycles in about 2 minutes and a row of between 15-40 bikes which can be released when a five digit code is entered.
The bikes
Santander bikes offer the following features:
Three gears.
Front and back lights.
An adjustable seat.
A front basket in which bags/shopping can be easily secured by an elastic band.
A bike kickstand.
The original Canadian-built brand of Boris bikes weighed a staggering 27 kilograms. These things are not built for speed. You need to resign yourself to the fact that old grannies with their groceries will overtake you even when you are pedalling furiously in the highest gear!
The second generation bikes, built in Stratford-upon-Avon, are ever so slightly lighter, and glide much more smoothly. But they are a little bit slower on account of their slightly larger (and therefore slower) top gear.
Top tip: set your saddle height a little lower than you usually would. Most journeys will involve multiple stops at traffic lights, so you need to be able to plant one foot on the ground (or the curb) easily.
Hiring a bike from a docking station
It is easy to hire a bike from a docking station:
Touch the screen and accept confirm that you wish to hire and agree to the terms and conditions.
Tap your debit or credit card as instructed and wait for your payment to be validated. (You have to do this twice if you haven't already hire in the last 24 hours ...).
Take your release code (printed on a receipt) from the docking station and select the bike you want to hire.
Tap in your release code using the keypad next to the front wheel of your bike. A green light will shine and the bike will be released automatically if you've got the code right. Set your saddle height, put on your helmet and off you go!
When you return your bike to a docking station at the end of your journey, you need to give the front wheel a really big push to get it into the docking mechanism and hold it there for a few seconds. You'll hear a bleep and see the green light flash.
Hiring a bike using the app
If you are a regular Boris Bike user, you are much better off using the Santander App.
Once you've installed it and added your payment details, you can hire a bike in seconds and up to 10 minutes in advance of when you want to use it.
To release the bike, simply tap in the key-code displayed on the app. In other words, you don't have to go anywhere near the computer at the docking station.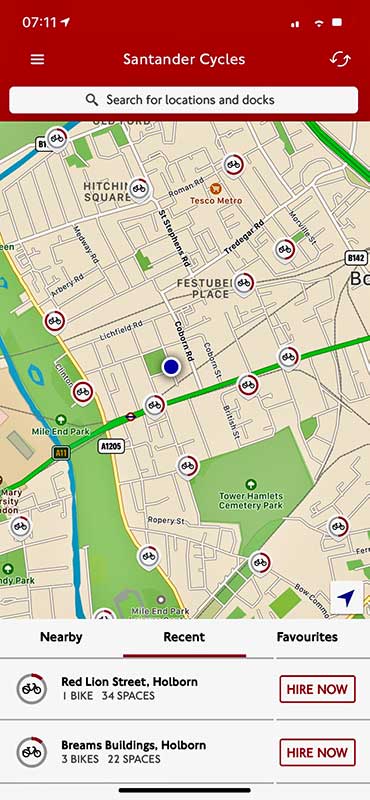 Features of the Santander App
The app is good in other ways:
It times your journeys and displays distance travelled and calories burned in its Activity section.

It shows you nearby docking stations and tells you how many bikes each one holds. This can be important: you don't want to walk to a docking station to find that it has no bikes; or try to drop a bike off and find that there are no free spaces.

It has a fun 'My Achievements' section. At the moment (Nov 20) there are five possible achievements:

High five (hiring five days in a row);

Frequent flier (when you have completed 20 hires);

'Born to ride' (when you have hired a Santander Cycle from 5 different docking stations);

'Just visiting - London Eye' (for when you've hired at a London Eye station); and

'Keep on pedalling' (when you've ridden a total of 123 kilometres).
2. Cycling in London
I spent 10 years in London not cycling because I thought it was too dangerous.
But I'm now a huge convert: Cycle Superhighways, Quietways, cycling lanes and a 20 mph speed limit have made London a good (but not great) city to cycle in.
CycleWays
London has undergone a cycling revolution over the past decade. Under successive regimes, cycling has been prioritised by City Hall. This has resulted in a series of Cycle Superhighways, Quietways and (more recently) Cycleways (into which the previous Superhighways/Quietways will be absorbed).
For the user, this means that there are cycle lanes on a great many of London's roads (largely marked with blue paint, and some of them segregated from traffic for at least part of their length).
The best example is Cycle Superhighway 3, which runs from Lancaster Gate to Hyde Park, Westminster, Embankment, Blackfriars, Tower Gateway, Canary Wharf and on to Barking. This east/west route is largely segregated from traffic.
20 mph Speed Limit
On 2 March 2020, a 20 mph speed limit was introduced on all central London roads managed by Transport for London. This reduced limit had been phasing itself in for three years previously. The change was introduced to improve road safety, which London mayor Sadiq Khan said that he hopes in turn would encourage walking and cycling.
Some drivers opposed the change, which the Licensed Taxi Drivers Association said that it would make little difference!