1. Mile End Park
The 32-hectare Mile End Park was created following a slum clearance effort by the local council.
The Park runs north to south, stretching from Victoria Park in the north to Limehouse (close to Canary Wharf) in the south.
It is divided into a number of different zones, as follows (north-south):
The Play Arena, with a high-tech and multi-coloured children's playground adjacent to the Regent's Canal and a large grassed area called Wennington Green.
The Ecology Park, including a tranquil lake that is home to ducks, herons and bull rushes, meandering gravel paths and a wind turbine. The adjacent Ecology Pavilion is a popular venue for wedding receptions (and, more recently, COVID tests and vaccinations).
The Art Pavilion, found to the south of the Mile End Climbing Wall, hosts community events, a farmers' market and is surrounded by another lake and landscaped gardens. This is a popular area for students, with Queen Mary's campus located on the other side of the canal.
The Green Bridge, a living bridge for pedestrians and cyclists over the busy Mile End road, connects the north and south parts of Mile End Park.
The South Park is dominated by its sporting facilities. It offers an Astroturf pitch for 11-aside hockey and football, three 7-aside 3G pitches, four 5-aside 3G pitches, two netball courts and three tennis courts. It even has a dog agility training area!
The Children's Park and Pavilion. At the park's southern end, this is another large children's play area.
In addition, there is the Mile End Leisure Centre & Stadium. The leisure centre is equipped with a large gym, group exercise studios, and 25 metre and teaching swimming pools. The athletics stadium, upgraded in 2011 before the 2012 London Olympics, is UKA graded and was the American athletics team's base for the 2012 Olympic games.
Continue south from the leisure centre to find a large and popular skate park, and the adjacent 650-metre go-kart track operated by Revolution Karting. Prices for karting start at £25.
Mile End Park aims to be self-funding, using income from the shops and restaurants underneath the Green Bridge. It is cared for by Park Rangers and the Friends of Mile End Park, who organise regular litter-pick days. MAP
Finally, don't forget to visit our page on more East London children's attractions.
2. Victoria Park
Victoria Park, also known as the People's Park, is a 10-15 minute walk from Mile End tube station.
This 78-hectare park, opened in 1845, is one of jewels in East London's crown.
There is a pretty boating lake, packed with wildlife and featuring a reconstructed Chinese Pagoda. There are great eateries and pubs in and around Victoria Park, which also offers a host of sporting activities, regular music concerts (such as All Points East) and other things to do (such as the popular farmer's market held each Sunday). And there are loads of sporting options and peaceful spots to take in nature.
Learn more at our Victoria Park page.
3. Mile End Climbing Wall
Mile End Climbing Wall is a substantial indoor climbing facility offering roped vertical climbing, bouldering (un-roped vertical climbing) and traversing (sideways climbing) on a variety of different in- and outdoor walls.
Mile End Climbing Wall's 16,000 square feet of climbing space includes the Peggy Day traversing wall (opposite reception, and a great place to warm up), bouldering at heights of up to 5 metres in the main indoor room, upside-down climbing in the Monkey Room, and outdoor bouldering in the 'Secret Garden' at heights of up to 3.5 metres.
In addition, there is a large area for roped climbing, a beginners' room and a Board Room – where seasoned climbers can hang on to tiny holds to improve their physique and technique.
The Centre has an informal, friendly atmosphere – so beginners are not intimidated. It also:
offers a variety of courses for all ranges of abilities,
has its own climbing shop (called Rock-On),
dishes up drinks, snacks, coffees and pastries, and
is staffed by knowledgeable and friendly climbers.
when? The Centre is open from 10am to 9.30pm on weekdays, and from 10am to 6pm on weekends and bank holidays.
£$€¥ Climbing for the first time costs £16 (which includes your membership card and a tour), with subsequent trips costing £11. Monthly and annual passes are available for £45 per month and £400 per year. MAP
4. Tower Hamlets Cemetery Park
The 11-hectare Tower Hamlets Cemetery Park is a former burial ground that has been converted into a nature reserve and educational facility.
Graves
One of the magnificent seven graveyards—privately run sites established in Victorian times to keep up with London's spiralling population—the cemetery was closed to burials in 1966.
In its early years, the cemetery was predominantly used to bury poor Londoners in public graves.
The cemetery also contains the graves of 279 Commonwealth servicemen who died during the two world wars.
Some local celebrities are also interred here, such as John 'White Hat' Willis, the first owner of the Cutty Sark. Nine of the cemetery's graves have Grade II listed status.
Education
The Cemetery has since 1966 been turned into a nature reserve, comprising mainly tranquil woodland, five wildlife ponds and grassland.
The Friends of Tower Hamlets Cemetery Park, whose patron is the environmental campaigner and broadcaster David Bellamy, provide regular educational events, such as guided walks, grave research days and 'Bow Beasties' family fun days.
Tower Hamlets Cemetery Park also acts as an educational facility, welcoming about 8,000 schoolchildren each year to discover the flora and fauna available at what is dubbed 'London's most urban woodland'.
Visiting
The cemetery is open from dawn till dusk. A lap of the Park is about 1 kilometre in length and takes about 15-20 minutes. We guarantee that you will forget that you are close to the centre of one of the world's biggest cities!
Ackroyd Drive Greenlink
You could visit the Cemetery Park as part of your exploration of Mile End Park, using the Ackroyd Drive Greenlink – a green corridor connecting the two attractions.
The Greenlink is divided into five sections (from left to right): the Cowslip Meadow, Allotments, Blackberry Meadow, Peach Tree Meadow and Primrose Meadow.
Don't miss the wonderful animal murals painted on the Greenlink's railway arches (one of which is pictured). Contributed by 13 graffiti artists, the murals are part of the Endangered 13 project, to raise awareness about endangered species. MAP
5. Queen Mary, University of London
Queen Mary is one of the 17 colleges that makes up the University of London.
It has about 20,000 students at any time, and offers over 200 degree programmes at five different campuses. It is regularly ranked amongst the top 40 universities in the country.
Queen Mary's main campus is in Mile End. It is here that most academic schools are based (such as the school of physics and astronomy and the school of geography), together with various halls of residence (some now operated by Scape Student Living), lecture theatres and Queen Mary's main library. The campus even has its own bookshop and Santander bank branch.
The Sunday Times Good University Guide has said that the Mile End campus:
"in the fashionable East End of London is the most extensive in the capital … Students welcome the relatively low prices (for the capital) in east London, and their proximity to the lively youth culture of Spitalfields, Shoreditch and Brick Lane."
6. Mile End's Architecture
Most of Mile End was developed between 1820 and 1860, making it late Georgian or early Victorian in era.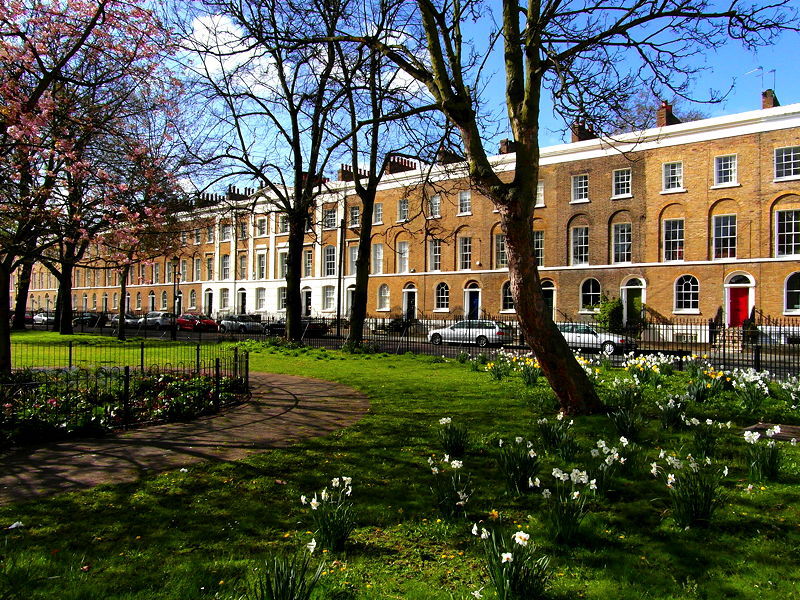 Much of the development took place on land owned by Sir Charles Morgan of Tredegar and the Coborn Trustees, following an 1824 Act of Parliament. Their names abound:
Tredegar Square (pictured) is the largest and best-preserved square in East London;
pubs found within a stone's throw of Tredegar Square are called the Morgan Arms and Lord Tredegar; and
adjacent to Tredegar Square are found Coborn Road and Coborn Street.
Tredegar Square
If you are in the area, you must take in the gardens in the middle of Tredegar Square and the square's north side. Grander than the other sides of the square, the north side's Grade II listed, five-storey stucco-fronted houses now sell for up to £4 million.
The Square's tall buildings were popular with sea captains in the 19th century; with a good pair of binoculars, they could see down to the docks at West India Quay to check whether their ship was ready to sail.
The Blitz
The Blitz affected east London particularly badly.
In fact, the very first V1 flying bomb to land in London exploded on a railway bridge adjacent to Mile End Park on 13 June 1944 killing six people. You will notice this when walking around the area, with post-war houses punctuating streets that are otherwise filled with 19th century structures.
The area, much of which became neglected in the years following the war, has now become both fashionable and expensive.
7. Food & Drink
The top eateries in Mile End are the Morgan Arms, the Greedy Cow and Ariana.
The Morgan Arms is a gastropub just off Tredegar Square. Attractively decorated, and full of comfy armchairs and sofas, the Morgan Arms serves restaurant quality food. We've recently had an excellent bouillabaisse there (£18) and their Sunday lunches are always high quality (£16.50 for roast beef and all the trimmings). Cheaper options include burgers and fish & chips (c. £11).
The Greedy Cow offers excellent gourmet burgers and steaks at sensible prices in a lively dining room. Burgers range from £6.95 to £12.50 for classic beef and Wagyu been respectively. More exotic burgers—camel, kangaroo and wild boar—come in at £8.95. Steaks range from £10.95 (rump) to £20.95 (fillet).
For something a bit different, try Ariana. This joint serves Afghan and Persian food in an eclectic dining room and covered outdoor area. We recommend the grilled meat and fish, and suggest that you try the Sultani lamb dish, mixed grill, grilled prawns and Afghan rice pudding. Prices for main courses range from £10 to £15.
Other options
Other good options are
Palmers Restaurant (offering modern European food dished up by a father and son team),
the newly opened Ciao Bella (serving great Italian) and
the Lord Tredegar (converted from an East End boozer into a gastropub a few years ago, with cheaper prices and better service than the Morgan Arms).
The Pizza Room, run by the same couple as operate the Coffee Room (see below), has recently opened its doors. Located next to the Hungry Cow, and boasting a new green Italian clay oven, this intimate joint offers great value pizzas. We enjoyed the £11.50 'All Seasons', described on the menu as including Elia's secret recipe tomato sauce, mozzarella fiodilatte, spicy ventricina, Rovagnati Gran Piacere Ham and Pancetta Arrotolata.
Coffee Shops
Leaving aside the Starbucks and Costa Coffee close to Mile End tube station, there are a host of great independent coffee shops in the neighbourhood:
The Coffee Room, on Grove Road, is an intimate shop offering fantastic pastries, snacks and take-away pasta. It serves the best coffee in Mile End.
The Comrades Coffee Shop, also on Grove Road, is a fashionably decorated and much larger shop - a great place to drink coffee and work in peace.
The newly opened Blu Ivy Cafe, on the Regent's Canal, is a wonderfully relaxing new venue - also highly recommended.
8. Roman Road
Roman Road is a busy shopping and market road at the heart of Mile End.
Roman Road probably formed part of the London to Colchester road built by the Romans in about the second century (also known as the Great Road and Pye Road), with Roman remains being unearthed nearby in 1845.
Roman Road Market
These days, however, Roman Road is home to a busy shopping street, and the eponymous market held each Tuesday, Thursday and Saturday.
The Roman Road Market, held at the eastern end of Roman Road, sees street traders hawk items such as clothes, shoes, plants, food and household items. Given the gentrification that has taken place over the last decade, there are now stalls selling posh coffees and high-end organic produce.
A recent addition is the Roman Road Yard Market. Found a stone's throw from the main market, the Yard Market is held each Saturday from 10 am to 5 pm and offers records, jewellery, street music, hot food and cycle repair.
Shops on Roman Road
The shops on Roman Road are an eclectic mix of old and new.
Launderettes, pawn brokers and traditional fishmongers fall into the former category. Don't miss the George's Plaice fishmonger, run by Tom Disson. There has been a fishmonger on this site since 1898, selling east-end treats such as cockles and jellied eel.
Another great option is the G. Kelly Noted Eel & Pie Shop, established in 1937.
In the 'new' category fall a number of great independent shops, including:
Vinarius on the Roman (a rustic wine shop, wine bar, cafe and Al Volo restaurant),
Impulse Shoes (a ladies and children's shoe shop at number 579) and
Zee & Co (offering high fashion such as McQueen, Kors and Westwood and friendly service).
Eating and drinking
A number of great eateries have also sprung up on Roman Road. We recommend three new coffee shops: Zealand Road Coffee, Chesterfield and La Table Des Saveurs.
And have a look at Fika, at number 414 Roman Road—a tastefully decorated Swedish cafe.
9. More things to do in Mile End
There are a host of other things to do in Mile End.
Ragged School Museum
Ever wondered what it was like to go to school in Victorian times? If so, the Ragged Staff Museum is for you.
The Ragged Schools were established by social reformer Doctor Barnardo in late Victorian times to provide free food and education to London's poor and orphaned children.
With a reconstructed Victorian classroom, and actors or actresses posing as Victorian schoolteachers, the Ragged School Museum is a great attraction for kids.
It hosts about 16,000 schoolchildren each year, on pre-arranged school trips. It is also open on the first Sunday of each month to the general public (2 pm to 5 pm, with 'lessons' starting at 2.15 pm and 3.30 pm). Other attractions include a recreated domestic kitchen from the year 1900.
The Ragged School Museum is housed in a large converted warehouse originally built for housing goods transported along the Regent's Canal. The warehouse was saved from demolition in 1983, with the Museum opening seven years later. The space is also often used for fashion shoots.
Limehouse Basin
OK. So this probably isn't quite Mile End. But as the Limehouse Basin is close to the southern end of Mile End Park and reached by continuing along the Regent's Canal, we thought that we'd include it nonetheless.
The Limehouse Basin collects water from the Regent's Canal and the Limehouse Cut, discharging it into the Thames. The Basin is about 4 acres in size, surrounded by high-class apartments. Small ships and barges are found moored in the Basin, which is also home to wildlife including moorhens, herons, swans, coots, carp, pike, eels and roaches.
If you are in the area, you should walk down to the Thames and follow the Thames Park to Canary Wharf. Limehouse Basin is also adjacent Ropemaker's Fields, a pretty park, and is home to a number of eateries, including Gordon Ramsay's gastroub The Narrow.
Bow Heritage Trail
For those really wanting to get to grips with the area, we recommend the 3-hour Bow Heritage Trail. Taking in Mile End Road, Roman Road, Victoria Park and the River Lea, the trail is (for the most part) well-marked by blue signposts.
10. Transport Links & Amenities
It was often said that Mile End is the only station from which any other London Underground station can be reached with a maximum of one change, but this may no longer be true.
Transport
What is clear is that Mile End tube station—on the Central, District and Hammersmith & City lines—offers excellent transport links.
Five minutes walk to the east of Mile End tube is found Bow Church DLR station. Mile End is also well-served by the London Bus network and, from 2013, Boris Bikes.
City Airport can be accessed by the DLR or by a 15-minute drive.
Other amenities
Other amenities in Mile End include three supermarkets: Budgens (underneath Mile End Park's Green Bridge), a Tesco Metro (83-89 Mile End Road), and a Sainsbury's Local (at 420 Mile End Road).
Mile End Park Stadium has a sports centre equipped with 400-metre running track, full-size and 5-a-side football pitches, an astroturf hockey pitch, gym and swimming pool. In addition, Soho Gyms have their Bow Wharf branch to the north of Mile End Park.
Queen Mary's campus, on the Mile End Road, has the John Smith's Book Store, whilst Mile End's Post Office is found at 13 Burdett Road. Close to the campus are found the large Wetherspoon's pub called The Half Moon and Mile End American Pool & Snooker.
11. The Mile End in History
Mile End has a number of interesting historical connections.
Romans and the Doomsday Bok
The Roman road from Londinium to Colchester passed by Mile End, with remains having been found nearby. There is also a reference to the 'Manor of Stepney' in the 1086 Doomsday Book, explaining that the Norman conquerers owned much of the land in the area.
The Peasants' Revolt
The Peasants Revolt was a major uprising that took place in 1381, as a result of resentment caused by high taxes imposed by Richard II to pay for his Hundred Years' War with France.
The revolt was ultimately unsuccessful. But Mile End played an important role in the story, being the place where Richard II met the rebel leader Wat Tyler (and purported to grant him a number of concessions which gave the King time to raise an army of his own).
Things ended badly for Tyler: he and his key allies were rounded up and hanged.
The Industrial Revolution and the Regent's Canal
The East End, and its large workforce, played an important part in the industrial revolution. Of particular note is the construction of the Regent's Canal, running from the Limehouse Basin to the Grand Central Canal in Paddington.
The brainchild of businessman Thomas Homer, the 8.5 mile canal was authorised by the Regent's Canal Act 1812, designed by John Nash (famous for setting out Regent's Park), and opened in 1820.
The Blitz
The blitz is the name given to the heavy bombing of London during world war two. It lasted between September 1940 and May 1941, and started with 57 successive nights of bombardment. East London was a particular target, being a key centre for imports and storage of raw materials. Tower Hamlets, of which Mile End forms a part, was the London borough that suffered most.
Towards the end of the second world war, Hitler launched another bombing campaign using V1 and then V2 rockets. A bridge adjacent to Mile End Park was the site of the first V2 rocket strike on London, on 13 June 1944, which killed six people. Today the site is marked by a blue plaque.
Popular culture and today ...
Mile End has come some way from the area described in Pulp's eponymous 1996 top-ten hit. The song featured on the soundtrack for the film Trainspotting.
Its lyrics include the following lines: 'Oooh/it's a mess alright/ yes it's Mile End' and (describing a council estate) 'The lift is always full of piss / the fifth floor landing smells of fish."
These daysMile End is a fashionable place to live, being hometo celebrities such as Danny Boyle, Graham Norton and Danny Wallace.